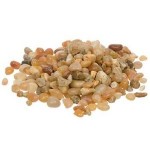 While the fish are the stars of your aquarium, you can't forget about the background. Some quality aquarium gravel from Fish Fans.com will dress up your tank, making it look show quality! We offer all sizes, shapes, styles and color of aquarium gravel, in conveniently sized bags.
You can see our available aquarium gravel below:
---
---
Imagitarium Blue Jean Aquarium Gravel, 1 lb.
$9.98 $9.08

Gravel aids in propagation of beneficial bacteria. adds depth and beauty to aquariums, water gardens, ponds and terrariums. made of non-toxic fish safe materials and colors. safe for use in freshwater and marine environments.


---
Premium Ponderosa Full Range Pea Gravel 20 Lbs (Pounds)
$14.95

Premium ponderosa full range pea gravel is hard to find. it is a beautifully diverse color range stone, from blacks and blues to whites, grays and tans. the stones are all different shapes and sizes, and most of the stones are rounded. sizes range from 1/4 inch to 1/2 inch. for natural streams, rive...


---
Imagitarium Mini Rainbow Aquarium Gravel, 1 lb.
$9.98 $9.08

Imagitarium rainbow aquatic gravel livens up any tank with its kaleidoscope of carefree colors. vivid hues of pinks, blues, yellows and greens complement your splashy fresh or saltwater fish. this aquarium gravel is perfect for creating whimsical displays and maintains the healthy status of your tan...


---
---
---
---
---
---
---
---
---
---
---
---
---
---
Exo Terra Turtle Pebbles, Large
$9.99 $9.99

Exo terra turtle pebbles are smooth river pebbles that have rounded over time in fast moving rivers. the smooth pebbles prevent injury to bottom dwelling or foraging turtles. the variations of colours and patterns create a natural looking riverbed. round pebbles 5/9-inch to 5/8-inch, perfect for tur...


---
---