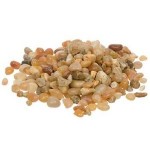 While the fish are the stars of your aquarium, you can't forget about the background. Some quality aquarium gravel from Fish Fans.com will dress up your tank, making it look show quality! We offer all sizes, shapes, styles and color of aquarium gravel, in conveniently sized bags.
You can see our available aquarium gravel below:
---
Pure Water Pebbles Aquarium Gravel, 5-Pound, Turquoise
$3.98 $3.98

Pure water pebbles turquoise aquarium gravel 5lbs (grain size: 3.1-6.3mm). use them in your aquariums and ponds to make the floor bottom look great. it provides living space for beneficial microbes and anchoring for plants. it also helps with the filtering process of the water in your aquarium tank ...


---
Nature's Ocean 12-Inch Coral Base Rocks for Aquarium, 40-Pound
$55.74 $55.74

Nature's ocean coral base rocks 40lbs (packaged: 2 per case 12 inch - 17 inch)nature's ocean base rock is 100% premium all natural aragonite rock covered with naturally formed holes and crevices which makes for some very interesting and unique shapes and is easy to stack when creating a base for gro...


---
Aqualexs Aquarium Ohko Dragon Stone Rock Mixed Sizes (15 LBS)
$49.99

Aquarium dragon stone mixed sizes, please note: comes with a variety of colors, not consistent, some are darker or lighter. checkout our 15 and 20 lbs for better deal safe and great looking rock for your tank, this stone will not alter the water values compare with similar items


---
GloFish Aquarium Gravel, Black with Fluorescent Accents, 5-Pound
$8.00 $6.39

Glofish aquarium kits, lighting and décor create an underwater fluorescent wonderland that appeals to all ages and levels of expertise. with our full range of vibrant accessories uniquely designed to work with glofish led lighting, you can transform any aquarium into a glofish environment at the cl...


---
Worldwide Imports AWW0855 Atlantic Coral Rock, 40-Pound
$50.44 $50.44

Two little fishies outstanding selections live aragonite sand is sustainably harvested from various natural sites in the western pacific. this live" marine substrate is packaged with naturally occurring beneficial bacteria that help to establish biological systems in marine aquariums.